Cleaning & Caring For Your Pool Table & Accessories

SIMPLE STEPS FOR KEEPING YOUR PLAYFIELD CLEAN….From Cue & Cushion

Keeping your cloth clean and in its best playing condition is easy when you know how to do it right. Follow these simple steps to get the most out of your pool table. Cue & Cushion wants to help you do it right!
Step 1
Pick any large pieces of dirt or material off the table. Using the small wand attachment on your vacuum cleaner, clean around the pockets. Then clean under the rails the entire perimeter of the table.
Step 2
Now find the small upholstery attachment for your vacuum. Starting at the center of the table, work your way out to the rails cleaning in a straight line. Clean the entire table in this fashion from the head of the table to the foot.
Step 3
Clean the table in the same fashion from head to foot now. You will want to vacuum the table in ONE direction. Not scrubbing the table. Just make sure you lift the attachment off the table when you start each new area.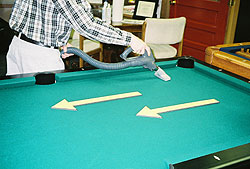 Step 4
Finally, you will want to brush the table evenly. This will make the table consistent in play by making sure the fibers all lay the same way. Start at the head of the table and work your way down to the foot again.
Enjoy your game!
Wooden Pool Tables and Wood Finishes
Natural wooden surfaces should be dusted frequently.
The original sheen on wood and wood finishes can be restored by using a non-residue forming dusting agent, such as mild lemon oil.
Glass cleaner must never be used on wooden pool tables as the ammonia can chemically damage the finish.
Spills on wood should be cleaned up immediately to prevent staining.
Pool Table Pockets
Pockets can be easily damaged and so your pool table should be situated away from sources of direct or excessive heat and light.
The pockets should never be sat or leant on, nor should the cue be slid over the pockets when shooting as this will cause scuffing.
Examine the pockets frequently for loose tacks or staples, as these may damage the balls.
Pool table pockets should be dusted often and cleaned with a damp cloth and mild soap if necessary, then dried properly.
Never set anything on the pockets as certain substances will permanently mark them.
Saddle soap, or a similar product, may be used to maintain leather pockets, but the pockets will need to be wiped thoroughly after treatment to prevent ball or cloth blemishes.
Balls should not be stored in the pockets for any length of time.
Hardware and Accessories
Rail caps, cabinet corners, table feet, leg levelers, and all other pool table hardware should be regularly cleaned using a clean, damp cloth.
Pool balls can be cleaned whenever necessary using a mild household detergent, then dried and polished with a soft, clean cloth.
Stubborn marks can be removed using a non-abrasive cleaning product.
For a perfect shine, apply paste wax to pool balls after cleaning, then buff to a bright luster.
Any synthetic surfaces, such as vinyl, can be cleaned using a mild detergent.
Pool Cues
Pool cues should always be stored upright in a rack located away from exterior walls, doors or heating appliances and vents.
Pool cues are prone to warping and must never be leant against a wall or pool table for any significant length of time.
They can be cleaned as often as needed with a clean, damp cloth and mild soap, then dried properly and polished.